There are currently no events
2020 Incidents
Jan
96
Feb
111
Mar
66
Apr
52
May
75
Jun
63
Jul
51
Aug
Sep
Oct
Nov
Dec
Total
514
Yearly Calls
2019
915
2018
876
2017
840
2016
790
2015
757
2014
634
2013
705
2020
639
2021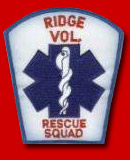 Web Counters
Website Visitors
Since
August 27, 2007

Visitors Today
Jan 27, 2023

Copyright © 2023 Ridge Volunteer Rescue Squad


Duplication of text, photos, or any other content on this website is prohibited without permission of RVRS. If you have questions, please contact us at info@rvrs.org
Guestbook
Welcome to the Ridge Volunteer Rescue Squad Guestbook. Your feedback is important to us. Feel free to leave your comments.
| | |
| --- | --- |
| Page of 2 [ Back | Next ] | Records 1 - 30 of 31 |
Signed on June 20, 2021 at 4:13 PM
Guest Name:
John R Petty
Web Address:
204 N 5th St HARBOR BEACH,MI
Comments:

I STARTED OUT AT 15 YEARS OLD, TOOK MANY CALL IN HIGH SCHOOL. DID MOST OF THE BUDD'S CREEK RACES.
Signed on February 09, 2016 at 2:57 PM
Guest Name:
Bobbi Jo Gunn
Location:
Maryland
Comments:

I want to express my sincerest sympathy to the family, friends and squad members on the passing of a beautiful soul, Marsha Evans. This loss is one that is felt by an entire community. Our hearts are broken with yours as we mourn this sudden passing of such an amazing young woman. May God comfort the brokenhearted and heal the pain that will be felt for a long time.
Marsha, your presence is already missed, as is your laugh and smile, fly high angel and RIP!
Signed on May 28, 2014 at 12:13 AM
Guest Name:
Rev. William A. Kent
Rank/Title:
Chief Chaplain, WAKECMI Emergency Services Division
Location:
Blue Ridge Summit, PA
Comments:

I have been coming to Point Lookout and Ridge since 1975 and worked at Rick's Marine between 1994 and 1999. I've been involved, one way or another, with EMS and Fire/Rescue since 1975 and am currently active in PA as an EMT and as a Chaplain to the local Fire/Rescue Company.

Have enjoyer surveying your web site and perhaps I'll stop and say a prayer on my next visit to the Ridge, Point Lookout area.

God Bless, and may He keep you safe until then.

Rev. Kent

In memory of Richard Ince, God Bless
Signed on March 12, 2014 at 9:41 PM
Guest Name:
John Cruz
Rank/Title:
patient
Location:
Duffys way, Scotland MD.
Comments:

Just like to thank all who picked me up on Feb 1st @ 21:08 at Duffys way in Scotland with chest pain. All went well after 2 days in the hospital. Thanks again!
John Cruz
Signed on November 26, 2011 at 12:52 PM
Guest Name:
FDNY EMS Website
Web Address:
www.fdnyemswebsite.com
Location:
NYC
Comments:

Nice website. Keep up the good work. Stay safe.

Webmaster

FDNY EMS Website

Http://www.fdnyemswebsite.com
Signed on September 20, 2011 at 12:23 AM
Guest Name:
Michael Humphries
Location:
Alabama
Comments:

I just wanted to say how well you have presented the Ridge Rescue Squad to your patrons, colleagues, and those that depend on you. John Early would be peoud of what you have accomplished. There is not a day that goes by that I do not think of the wonderful people I ran with while a member in the late 70's and early 80's. Some of the best times of my life. Be careful and stay safe.

Mike Humphries
Signed on June 03, 2011 at 1:39 PM
Guest Name:
Ridge PM Pre-K Class
Comments:

Thank you for posting the photos of this exciting day!
We all had fun and learned so much. Our RIDGE VOLUNTEER RESCUE SQUAD ROCKS!!!
Signed on May 23, 2011 at 11:40 AM
Guest Name:
MIKE RIDGELL
Location:
Dameron
Comments:

Hope your drive-thru dinner was a great success.
Dinners were great,keep up the outstanding job you do.


Mike
Signed on December 24, 2010 at 8:27 PM
Guest Name:
Jean Cooper-Harmon
Location:
Flat Iron Rd
Comments:

Merry Christmas to all and a happy new year!
Be safe during the holidays as you will probably be busy!
Volunteers are so appreciated thanks for all you do!
Signed on December 16, 2010 at 12:14 PM
Guest Name:
Dennis Mayor
Location:
San Diego, Ca. 92115
Comments:

Ok guys... Just writihg to say hello and because I can't be there am kinda hoping to see some pictures of the SNOW.. Gosh I miss you guys so much... I left in 1981 and every day I think about all of you every time... Fran,,, Jack ,,, And a few others... When you-all get a call and I know about it I pray that all will be ok with every one puting there life on line to help some one else in need... When I was in there we had 1 Ambulance respond to any call... Now they call out a whole army of people... You are in my thoughts and prayers every day... I was proud of what you do...
Hugs and love,,
Dennis Mayor ,, Former Member....
Signed on November 26, 2010 at 9:59 AM
Guest Name:
Doug Medley
Rank/Title:
Past Chief BDVFD
Web Address:
www.bdvfd.org
Location:
Lexington Park and California, Maryland
Comments:

Great to see some activity on the site. Your department has a wealth of information for the citizens of St. Mary's County and it doesn't have to be all about the calls that you all run. Human interest stories I find are what people that are not in the business so to speak love to read about and I know that in the community of Ridge there are many to talk about. From the calls that you make to assist the citizens to making the many transports back and forth to the hospital.

You are a truly proud department and you have accomplished much in your over 60 years of service to St. Mary's County.

Congratulations to all the new officers and a special one out to the new Rescue Chief 49 Debbie Drury. I know that you will make a great Chief.
Signed on September 03, 2009 at 8:27 PM
Guest Name:
Rob Pyle
Location:
Country Lakes/Mechanicsville,MD
Comments:

I just would like to comment to you guys that I find the resources on your webpage to be one of the best.

Goodnight.
Signed on May 23, 2009 at 10:26 PM
Guest Name:
FDNY EMS Website
Web Address:
www.fdnyemswebsite.com
Location:
NYC
Comments:

Nice website. Keep up the great work. Stay safe.
Signed on February 16, 2009 at 10:54 AM
Guest Name:
Jim Rodriguez
Rank/Title:
EMS LT 6
Location:
Second District Volunteer Fire Department and Rescue Squad
Comments:

My regards concerning the loss of your President Titus.
His good works will always be remembered.
Signed on February 15, 2009 at 6:59 PM
Guest Name:
Doug Medley
Rank/Title:
Past Chief - BDVFD
Comments:

To the Titus Family my deepest condolences to all and know that your husband and father was a giant in the fire/ems services in St. Mary's County. I'm just so thankful that I had the opportunity to have know him and to be able to call him my friend. I will cherish those last few visits that we had together and always remember that big broad smile on his face when me and some of his old gang from the base arrived to talk about all the fires we have fought over the years and probably make them bigger than they really were. He was always so upbeat when we were there even though we knew the pain that he must have been in. I know that God has welcomed him home and now there is no pain just beautiful memories of his family and friends of which there were so many. There is some damn good company up there in heaven so Big Joe I know you won't be lonely until we meet again.
Love Ya Big Guy and I never felt like a sissy when I would kiss you on the forehead when we were about to leave.81260
Signed on February 14, 2009 at 8:00 PM
Guest Name:
Jean Cooper
Location:
Flat Iron Road
Comments:

I want to express my sincere sympathy to the squad on the passing of your President Joey Titus. Joey was not only a cousin but married to my best friend of many years. I had the honor of being with the family (all of them) his immediate and his fireman/rescue family when he left us. He would have been sooo proud! Frances is a strong woman, her and Jessica and Marsha were just wonderful and allowed their husband and dad dignity and love until the very last breath he took. Your chief George was there as well saying good by to not just a friend but a man who has been more of a brother to him all their lives. Once again and to soon! The Ridge Community has yet lost another very giving man. You will all be in my thoughts and prayers.
RIP JOEY! WE LOVE YA...
Jean
Signed on October 21, 2008 at 9:27 PM
Guest Name:
Bill Hughes
Rank/Title:
Former fire fighter Ridge FD Ridge LI. NY.
Location:
New Port Richey FL.
Comments:

Just surffed in on the web.
Wow A Ridge Rescue Squad!!!
The Volunteer Fire department that I used to belong to has 3 stations & A
rescue company consisting of 3 ambulances (one At Eatch Station) & three
engine companys that cover a 14 square mile district on eastern Long Island
NY.
Keep up the out standing services to your community & note that your web site is very informative & professionally done.
If any of you are interested in the Ridge FD on Long Island Check out their website At Ridge FD.org.
Signed on August 27, 2008 at 8:53 PM
Guest Name:
Bay District Volunteers
Web Address:
bdvfd.org
Comments:

The Officers and Members of Bay District would like to wish a speedy recovery to Joe Titus after his recent surgery.
Signed on July 08, 2008 at 10:00 AM
Guest Name:
Mike Barbour
Location:
Abell, MD
Comments:

You have done a fantastic job with this web page. The graphics are excellent and the coloring/animations used on the page enhances the presented materials very well. Definitely a lot of hard work and dedication by the webmaster towards proudly representing the Ridge VRS organization - thanks for a refreshing and outstanding site!
Signed on December 16, 2007 at 12:43 PM
Guest Name:
Christy Ridgell
Rank/Title:
Secretary/Lieutenant
Comments:

Here's to wishing everyone a safe and happy holiday season!

Merry Christmas!
Signed on December 15, 2007 at 9:45 AM
Guest Name:
Jean Cooper-Harmon
Rank/Title:
Momma Jean/Granny/Ms. Jean
Location:
Flat Iron Road
Comments:

YOUR MEMBERS ARE IN MY THOUGHTS AND PRAYERS THIS HOLIDAY SEASON.

WISHING EVERYONE THE MERRIEST OF CHRISTMASES AND A HAPPY HEALTHY NEW YEAR.

GOD BLESS ALL OF YOU FOR ALL YOU DO....

BE SAFE

JEAN COOPER-HARMON
Signed on November 14, 2007 at 7:22 PM
Guest Name:
Bev
Rank/Title:
EMT-B/IVT (retired)
Comments:

I just want to say well done to everyone for their contributions & hard work this past year.......although I'm not there to see it I know the dedication is always there.
I also want to congratulate the new years officers & board.......

Miss you all..........Bev
Signed on November 01, 2007 at 10:02 PM
Guest Name:
Rob Pyle
Location:
St.Marys County Maryland
Comments:

I would just like to say you guys down at Company 49 have come a long way with the technology of your new website and you guys did a wonderful job puting it all together.


Keep safe and best luck to all at Co. 49!
Signed on October 09, 2007 at 4:58 PM
Guest Name:
JEAN COOPER-HARMON
Rank/Title:
MOMMA JEAN & GRANNY
Location:
FLAT IRON ROAD
Comments:

SO GLAD TO HEAR JOEY TITUS IS HOME.....I KNOW BAYNE ROAD LOOKED GOOD TO HIM! HEARD HE HAS BEEN CHASING FRANCES AROUND WITH HIS WALKER!

TAKE CARE AND LET OTHERS WAIT ON YOU FOR A CHANGE.

LOVE

JEAN
Signed on August 31, 2007 at 7:18 PM
Guest Name:
JEAN COOPER-HARMON
Rank/Title:
MOMMA JEAN
Location:
Flat Iron Road
Comments:

NICE SITE. GLAD TO SEE ALL THE HAPPY FACES! YOU GUYS AND GALS SO A FANTASTIC JOB! OF COURSE I MAY BE BIASED AS MY DAUGHTER AMY AND OLE PAL GEORGE ARE ON THE CREW....HEE HEE

ALL JOKING ASIDE THE TIME AND EFFORT THE SQUAD AND F.D. UNLIMITED DAY OR NIGHT. THEY ARE ALL GREAT GIVERS! OF COURSE I AM OVER IN THE 2ND THESE DAYS BUT MY HEART HAS A "4" STAMPED ON IT. KEEP UP THE GOOD WORK.

MOMMA JEAN
Signed on August 28, 2007 at 10:49 AM
Guest Name:
Michele
Rank/Title:
Lt/EMTB
Web Address:
www.ridgevrs.org
Location:
St. Inigoes, MD
Comments:

Great work, Scot! Boy are we going to have fun with this site. LOL.
Signed on August 27, 2007 at 6:59 PM
Guest Name:
George Franklin
Rank/Title:
firefighter
Web Address:
www.ridgevfd.org
Location:
Ridge Md.
Comments:

The website looks great. You have done your normal great work. See you all at the next one.
Signed on August 27, 2007 at 5:41 PM
Guest Name:
Jason Adams
Web Address:
www.bdvfd.org
Comments:

The new website looks GREAT! Have a safe Year!
Signed on August 27, 2007 at 1:41 PM
Guest Name:
Karen Burdette
Rank/Title:
citizen
Location:
Piney Point, MD
Comments:

Your new website is great! You have THE BEST pictures- Thanks for the great service to our community Your website designer is the best "Fire House Solutions". Keep up the good work Ridge!!!
Signed on August 27, 2007 at 9:46 AM
Guest Name:
Chris Eno
Rank/Title:
Safety Officer
Web Address:
www.whitehorsefire.org
Location:
Lancaster County PA
Comments:

Congrats on the new website!
| | |
| --- | --- |
| Page of 2 [ Back | Next ] | Records 1 - 30 of 31 |