There are currently no events
2019 Incidents
Jan
67
Feb
58
Mar
75
Apr
96
May
82
Jun
91
Jul
62
Aug
52
Sep
79
Oct
0
Nov
0
Dec
0
Total
662
Yearly Calls
2018
876
2017
840
2016
790
2015
757
2014
634
2013
705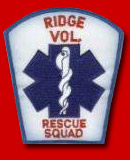 Web Counters
Website Visitors
Since
August 27, 2007

Visitors Today
Oct 20, 2019

Copyright © 2019 Ridge Volunteer Rescue Squad


Duplication of text, photos, or any other content on this website is prohibited without permission of RVRS. If you have questions, please contact us at info@rvrs.org
Welcome to the official website of the Ridge Volunteer Rescue Squad!
New Ambulance Placed in Service

RVRS, April 19

As of 1800 hrs, 4/19/19, The Officers and Members of the Ridge Volunteer Rescue Squad are proud to place into service a 2019 Horton Type 1 Ambulance. This Ambulance was purchased through Fesco Emergency Sales and is mounted on a Ford F-550 Chassis. The unit is equipped with an all LED lighting package, dual sirens, a Stryker Power-Load Stretcher, and a Liquid Spring Suspension. This unit is designated ... (Full Story & Photos)

Update on New Ambulance 498

RVRS Membership, March 19

On Thursday, March 14th Chief Engineer Brian Evans and Engineer Bruce Trossbach flew out to Columbus, OH to inspect our new Ambulance 498. Once they landed, they were picked up by our Sales Rep, Jacqulyn Buckley from FESCO Emergency Sales and taken to the Horton factory in Grove City, OH. Once at Horton, they went straight to work looking over the new Ambulance and verifying it met our specifications ... (Full Story & Photos)

Breakfast Fundraiser

Assistant Chief Jessica Snyder, March 18

Come on out and enjoy a Delicious breakfast prepared by the Ridge VRS Association members. This is held at the Knights of Columbus Hall. Dine In or Carry Out! Hope to see you there! Thank you always for your support! ... (Full Story & Photos)

Ambulance 498 placed out of service for the last time...

Ridge VRS, March 13

The Ridge Volunteer Rescue Squad placed Ambulance 498 out of service for the last time on the evening of March 12th, 2019. Ambulance 498 has served the citizens of St. Mary's County for 18 years. It was purchased in 2001 after losing it predecessor to the fire that destroyed our building. It was manufactured by MedTecPierce on a 2001 Ford E-450 cutaway van.

It is being replaced by a Horton ambulance ... (Full Story & Photos)




Academy Class III

Congratulations to Paramedic W. Kenney and Paramedic D. Lowmiller

Chief Mandy Purdy, October 12

Congratulations to 2 of our Paramedics on the completion of the Charles County Department of Emergency Services Academy Class III. Paramedic W. Kenney and Paramedic D. Lowmiller are now employed by Charles County as Paramedics. We could not be more proud of both of you! Not only do you give back to the neighboring county in your career but also in our volunteer system. ... (Full Story & Photos)

Your feedback is important to us! Feel free to sign the guestbook.
Ridge VRS gives a special thanks to the


for their generous support.